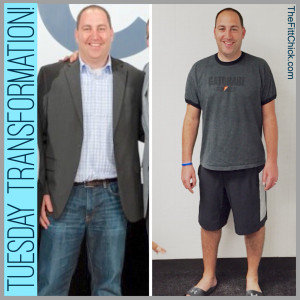 What if drinking beer daily was part of your job, and you traveled for work almost every week? What if you ate most meals at an airport and took the red-eye most trips so you could see your three young children? Everyone has obstacles that can derail living a healthy lifestyle. That is just life! It's how you deal with the constant temptations that will make or break any weight loss program. My client Daniel lives with these temptations everyday. Not only does Daniel love beer and sweets, but his busy life caused him to pack on some extra pounds. Over the last three months, Daniel pushed through all these obstacles and saw inspirational results. Check out Daniel's successful journey and his testimonial here…
"After years of consistent business travel, on-going late night munchies, and less time to work out, my weight had climbed considerably. It finally got to a breaking point where I felt extremely sluggish and tired.   It was unhealthy.  Most importantly,  I realized I needed to be around for my family and also needed to set a better example.
Thanks to TheFittChick plan and coaching from Jillian, I was able to regain control of my weight!  In just three months, I lost 25lbs this summer.
Jillian helped me focus on portion control and ways to improve my diet.  By collaborating upfront to develop a program based on what food I liked, it was easier for me to stick to the game plan.   At no point did I have to give up any food, but rather it was more about making sensible decisions.
Today, I feel great.  I have renewed energy.   My clothes fit.   I can easily notice the differences in pictures.  Best of all, I believe I  have a strong foundation and understanding in place to maintain the progress and success."
If you know anyone looking to jump start their own weight loss journey, check out my plans HERE! And more for inspiring testimonials, click HERE!
Are you ready to Eat Yourself Skinny?
Related Posts