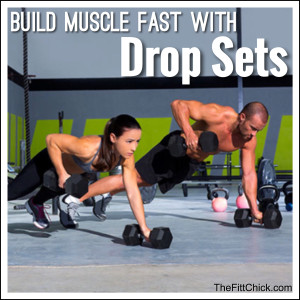 Drop sets are essentially a technique where you perform an exercise and then drop (lower) the weight and continue for more reps until you reach failure. I have said time and time again the importance of resistance training, and how adding muscle to your body will cause your body to speed up its metabolism.
This type of training pushes your muscles much harder than you would normally when doing a typical strength training workout. "Drop sets are a great way to increase muscle mass, and they are a quick and easy way to increase blood flow into the muscles, get the heart pumping and most importantly of all fatiguing the muscles to ensure muscle hypertrophy."
Anyone who is looking to build muscle or switch up their typical strength training routine can apply drop sets to their favorite workouts. Not many methods of strength training come close to the intensity and effectiveness of the drop set technique. Building muscle doesn't happen overnight, but this is an additional and effective aid in achieving a sculpted physique. Click HERE for a great video on drop sets, and how to incorporate them into your workouts. I started adding drop sets into my own routine about 8 weeks ago and have seen amazing strength and muscle gains in a short amount of time. Not only can I see and feel the changes, but they are black and white when I check my body composition on my InBody scale; which not only breaks down my percentage of body fat, but can measure my lean muscle mass!

Live Fitt!…Be Fitt!
Related Posts