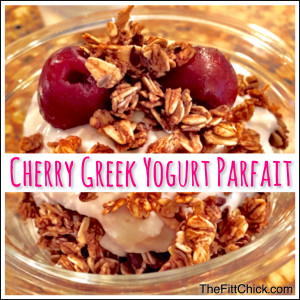 "In a morning rush? Don't let that become an excuse for getting off track. You can prepare a clean breakfast in less than a minute. I planned ahead and did some meal prep on Sunday so I could eat healthy on-the-go all week long! I prepared one of my favorites, TheFittChick granola, and have enough to get me through this busy week. This morning I made this AMAZING FittChick yogurt parfait. It was as simple as could be! I took one container of plain, nonfat Greek yogurt and layered it with FittChick granola and a couple frozen, unsweetened cherries. I topped it off with a drizzle of sugar free honey for a delicious, clean breakfast."
I love when my clients come up with new and easy recipes, AND offer to blog about it! Not only has Dana transformed her entire body, but has learned how to maintain her weight loss and live a healthy lifestyle. If you don't have TheFittChick granola recipe, any low sugar granola will work! Everyone can find one extra minute in the morning to start their day off with a protein filled breakfast.
For more recipes created by TheFittChick, click HERE! And click HERE for Dana's amazing Transformation.
Eat Yourself Skinny!
Related Posts