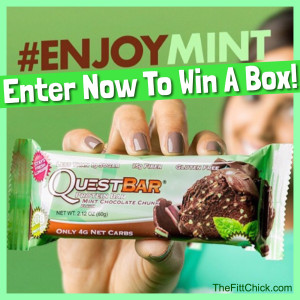 Quest Nutrition

 introduced a Mint Chocolate Chunk flavored protein bar this week, and it might just be the best flavor yet! If you have been reading my blog for a while, you know how much I love easy on-the-go snack ideas that are good for everyone in my family. I have raved about Quest Bars for years, and this new flavor does not disappoint. "This country is always on the quest for better health and nutrition, the quest to lose a few pounds, the quest to eat better and nothing will take you down the path to succeed in each of those quests than the Quest Bar itself!
One bite of the new Mint Chocolate Chunk Quest Bar
 and you will be in a minty chocolatey heaven
. This Bar has all of the rich chocolate flavor that Quest has developed over the years and they added huge chunks of incredible mint flavor to the bar. If you love grabbing that tub of Mint Chocolate Chip ice cream from the freezer, now you have a healthy alternative. As always is the case with Quest, you get great flavor and a label that no one else can beat. Quest produces very low carb protein bars with high protein, high fiber and no trans fats, that by itself lets you know that a Quest Bar is something you can feel good about putting into your body. To give you that full feeling as if you just ate a meal, nearly every ounce of carbohydrate in 
Quest Bars
 come from fiber. In addition you will find nut butters in your Quest Bars, providing healthy fats and minimal carbs."
Lucky for followers of TheFittChick, Quest is generous enough to be giving 3 lucky winners a chance to win their very own box. I love being the guinea pig when it comes to trying out new healthy foods; especially anything created by Quest. When you are meticulously following a healthy meal plan, it can be nice to have something to satisfy your sweet tooth. There is no denying Quest Bars are the perfect diet-friendly snack that will curb sugar cravings while helping you lose weight! If you are already a fan of protein bars, then you will LOVE the Mint Chocolate Chunk flavored Quest Bar. The texture is soft and gooey, and every bite is feels like you are eating a candy bar! ­­Not only are Quest Bars gluten-free, but they are perfect for anyone trying to live a healthy lifestyle. Click HERE to order some for yourself, and enter the giveaway below!
What is your favorite Quest Bar flavor to help you Eat Yourself Skinny!
The Giveaway…
TheFittChick is teaming up with Quest Nutrition to give 3 FittChick followers a box of Mint Chocolate Chunk Quest Bars. Enter below to win!
How to enter…
The giveaway will be open until Friday, May 15th
(You can enter to win on Instagram for an extra chance to win)
This post was sponsored by Quest Nutrition. All expressed opinions are those of TheFittChick and were not influenced by the opinions of Quest. Thank you for supporting the brands that I believe in and choose to feature here.
Related Posts