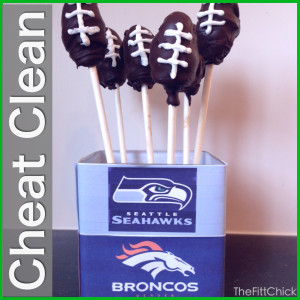 QUEST BAR COOKIE DOUGH CAKE POPS!!!!!!
In under 30 minutes you can be the star of your Super Bowl party! I can't to wait dig in to these amazing protein filled treats!

~Eat Yourself Skinny~


TheFittChick Quest Bar Cake Pops…
Ingredients:
-3 or 4 Quest Bars (I used Cookie Dough, Cookies and Cream, and Chocolate Chunk)
-sugar-free chocolate chips for dunking
-white frosting (I used mini tube in baking aisle)
Directions:
1. Microwave bar for 5 seconds. (I broke bar into 3 pieces and microwaved each piece separately as I worked)
2. Form warm Quest Bar into a shape of a football and push stick in at one end.
3. Place footballs into the freezer while you melt chocolate.
4. Dunk each football with melted chocolate and place back in the freezer.
5. Draw laces on with white frosting.
6. Devour!
Quest Nutrition #onaquest #cheatclean #questbar #superbowlsunday #glutenfree #sugarfree #fitfluential #protein #eatclean #thefittchick