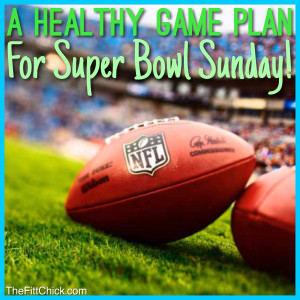 Did you know Super Bowl Sunday is the second largest food consumption day of the year after Thanksgiving? The average American will consume 1200 calories from snacking alone while watching the big game! Whether you're actually going for the football or just to hang with friends, chances are you have a party to go to!
"According to NPD Group, a New York market research firm, on Super Bowl Sunday Americans will eat 100 million pounds of chicken wings, 71.4 million pounds of avocados, 45. 8 million pounds of potato chips, 43.2 million pounds of tortilla chips, 13. 2 million pounds of pretzels, and order more than 4.4 million pizzas from Domino's, Papa Johns and Pizza Hut."
There is no way around the fact that Super Bowl parties are a huge challenge for those trying to live a healthy lifestyle! Try and follow some or all of these tips to enjoy the game without packing on the pounds!
FittChick Do's…
1. Start the weekend off right by eating healthy and getting in some great workouts!
2. Don't starve yourself the day of the party, that will only make you overeat later.
3. Eat a small meal before you go, which can help prevent overindulging on junk food. I always recommend a thick and filling protein shake!
4. Plan ahead and bring a healthy food choice such as a veggie platter with low-fat dips, shrimp cocktail, or a huge salad loaded with lean protein.
5. Control your portions! Try and sit away from the food to prevent mindless eating.
6. Choose guacamole over full-fat dips. It's loaded with nutrients and good fat to fill you up. Click HERE to see how eating avocado's can actually help you lose weight!
7. Don't drink away your calories! Drink water or other zero calorie liquids, and limit your alcohol intake to just a few. Read THIS to see how you can drink alcohol and still lose weight!
FittChick Don'ts…
1. Buffalo Wings are not only deep-fried but can pack nearly 1,700 calories and 50 grams of fat per serving…and that's before the blue cheese dressing!
2. The typical 7-layer dip weighs in a 700 calories and 80grams of fat per serving…and that's before the chips!
3. Stay away from the candy. If you load up on candy and chocolate you are just wasting empty calories on a treat that's missing fiber and protein that will keep you full.
4. Nachos can be over 1,000 calories per serving with 107 grams of fat.
Eat Yourself Skinny!
Related Posts
Hummus That Doesn't Pack on the Pounds