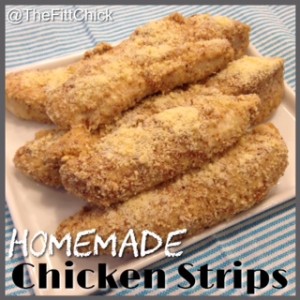 "How often do you pull a box of frozen chicken nuggets from the freezer for lunch or dinner for your kids? Once a week? Twice? If your toddler won't eat anything else, I'd wager it might be even more than that. I get it. Chicken nuggets are convenient and kids will eat them. But what ingredients make up your favorite brand? Are they made from things you want your little ones eating?
Tonight's dinner was one of my family's favorite meals! My 8 and 10 year olds always ask for seconds and sometimes even thirds. These Homemade Chicken Strips are unbelievably easy to make, absolutely delicious and made from ingredients you can pronounce. The best part is that you can make a huge batch and keep them in the freezer for future meals! What could be more simple, nutritious and yummy than that?"
Tonight I paired them with steamed green beans and asparagus fries. Recently, one of my 15 year old clients texted me, "We made the chicken strips tonight and it was the best filling meal I've ever had! It was soooo good!" For this FittKids recipe and so many just like it, click HERE! Next time your kids are begging for chicken nuggets, throw together this easy recipe and feel great that you are helping your kids live FITT!
Live Fitt!…Be Fitt!
Related Posts