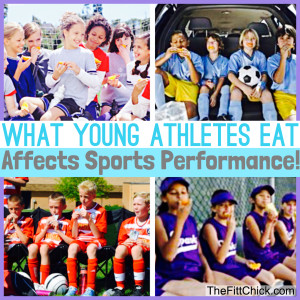 Just like adults, young children and teenagers need to fuel their bodies with the right foods to help them perform their best at whatever activity they do. When it's time to be active, kids will not only get energy from the foods they have been eating all week, but should be aware the foods they eat on game day will have a huge effect on their performance. If they are going to eat a snack or meal, make sure it is one to two hours before their game time. If they have a full stomach, then their body will need to spend energy digesting food, leaving less energy for them to use when they will really need it.
Recent studies show that "it takes a lot of metabolic energy to digest meals that are high in protein and fat, energy that could be used for exercising the muscles. Young athletes will tire more easily after too much fat. Start-and-stop activities, such a football, basketball, volleyball, and soccer, will be more difficult to perform after a snack or meal heavy in fats. It's best to save burgers, fries, nachos, or chicken strips until after the game."
Carbohydrates are the food group that will provide the energy kids crave. Healthy carbs fuel muscles and are good to eat about one to two hours before a game or practice. Some great ideas could be cereal, whole grain pasta, fruit, Greek yogurt, bagels, or a smoothie. Simple and quick foods are light and small enough to get your athlete through the game, but not heavy enough to affect their energy level. If the concession stand is a must, a hot pretzel or a sports drink will always be a better option then a slurpee, candy bar, or a hot dog.
A huge misconception is that sugar will give kids energy. Energy from eating candy bars or drinking sodas right before a game or practice will fade, and your child's performance will suffer before the game is over, leaving your child lethargic and drained.
Some young athletes I know wanted to share some of their own recent experiences. My son Cooper said, "I have learned that eating too much before a game will make me feel sick and tired," while Ryan said, "Sugary foods will give me a quick burst of energy, but it doesn't last long." Here is a quick break down of what to keep in the fridge to see your athlete perform their best!
1 to 2 Hours Before the Game

…
Provide a snack that is high in carbohydrates, low in fat, protein and fiber. Some great options could be a whole grain bagel with jelly and a piece of fruit, dried fruit with rice cakes, apples with honey, or a fruit smoothie. Here are a few on-the-go snacks my kids love as pre-game options.
During the Game

…
Water is the key. Encourage your athlete to stay hydrated and keep drinking water throughout their activity. If the activity lasts over 90 minutes, then a sports drink or light snack won't derail their energy levels. If they are competing in several events or games during the day, take plenty of carbohydrate based snacks with you to eat between games.
After the Game

…
Again, water is very important. Rehydrating is key, and eating a good carbohydrate such as a piece of fruit or a bag of rice cakes is best.
Young athletes have the same needs as adults. Helping your children learn what to eat to help them excel in their sport will not only educate them on living healthy, but will help them become more aware of their body and how they perform based on what they eat and drink. A good coach understands that nutrition is part of the game, but parents will have the biggest influence on what young players consume. 
Planning meals ahead of time can be challenging, but the payoff makes it worthwhile. When parents and kids work together to plan pre and post game meals, EVERYONE WINS!
Live Fitt!…Be Fitt!
Related Posts