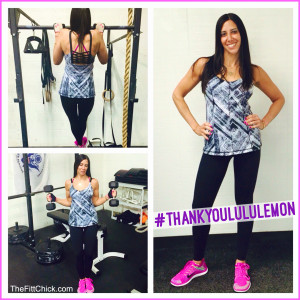 I am so thankful and appreciative that my local Lululemon supports wellness and fitness professionals! They recently asked me to do an in-store demo of my Copy Cat Shamrock Shakes. It was the perfect way to spend St. Patrick's Day! I loved meeting my followers and sharing one of my favorite FittChick recipes.
As a thank you, Lulu gifted me this amazing Hot to Street Tank! I loved it so much, I bought it in every color in comes in. It is the perfect top for any workout, and I love the detail on the back. Thank you to everyone who stopped by to visit. I can't wait for my next in-store promotion. I'm thinking FittChick brownies or cookies would be the perfect giveaway! Who doesn't love to EAT MORE & WEIGH LESS?
Check out all the great pics from the day! If you want to make TheFittChick Mint Chocolate Chip Protein Shake, get the recipe HERE! And thank you again to Lulu for my new swag!
Eat Yourself Skinny!
Related Posts