Fresh out of the oven is 2016's first simple and healthy FittChick recipe. This is one recipe that works great with any weight loss program, Paleo or Ketogenic diet, FittKids, or anyone living a healthy lifestyle. With a new year, comes resolutions. If you are looking to make some positive changes in your life, or if you are a parent who would like to encourage your children to make positive changes in their own lives, making resolutions for 2016 is a great place to start! While an adult's New Years resolution may include things like losing weight, a child can be encouraged to make a resolution to make healthier choices when it comes to meals and snacks.
My hubby and 2 boys just devoured these soft & gooey chocolate chip cookies! Get your kids in the kitchen today and make these quick and simple chocolate chip cookies! Children love knowing they are eating healthy and making smart choices. Make 2016 the year you get healthy as a family!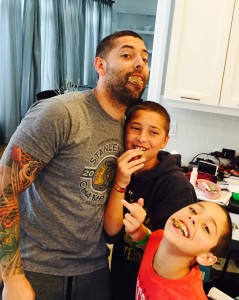 TheFittChick Paleo + Gluten-Free Chocolate Chip Cookies
INGREDIENTS

:
–       2 cups Trader Joe's Almond meal
–       1/4 tsp sea salt
–       1/2 tsp baking soda
–       2 TBSP sweetener of choice (I use granulated Truvia)
–       5 TBSP coconut oil, melted
–       2 TBSP unsweetened almond or cashew milk
–       28 grams Lily's chocolate chips or semi-sweet chocolate chips
DIRECTIONS

:
Preheat oven to 350.

Mix the almond meal, sea salt, Truvia, and baking soda together.

Add melted coconut oil, maple syrup, almond milk, and vanilla extract.

Once well combined, fold in the chocolate chips.

Place a piece of parchment paper on a cookie sheet, and use an ice cream scooper to make 12 cookies.

Bake for 18-20 minutes.

Watch your family devour them!
NUTRITIONAL INFORMATION

:
Serving Size

: 1 Cookie

Recipe Makes

: 12 Cookies
182 Calories   5 grams Carbs   16.5 grams Fat   5 grams Protein
MODIFICATIONS

:
~ For those looking to slash the calories in half and add more protein, substitute 1 cup almond meal for 1 cup Quest Baking Mix.
Bake Yourself Skinny!
**For more Simple, Quick, and Easy recipes for everyone in your family, click HERE!**
Related Posts