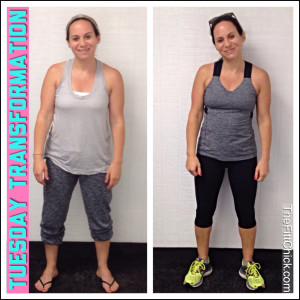 This transformation is such a pleasure to be sharing!  Marcy's main goal was learning how to eat healthy and provide healthy meals and snacks for her family.  Over her three month plan she not only lost 5 inches and 5 pounds off her tiny 5'1 frame, but she was able to teach her entire family to make smarter choices as well.
She says, "Jillian made the process of educating me about nutrition and eating easy.  This is not a diet but a tool to develop lifelong healthy eating habits.  The education she provided me was priceless!"  It is so rewarding help clients like Marcy learn to eat healthy and see her entire family benefit from all the knowledge she has gained.  Let Marcy inspire you to start your very own transformation!  To learn more about TheFittChick plan click HERE!
Eat Yourself Skinny!
Related Posts