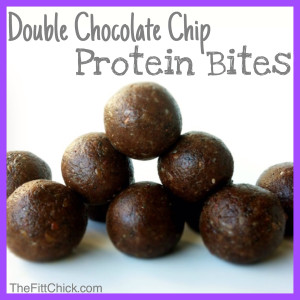 This has got to be my new favorite dessert! Not only are these protein bites rich and delicious, but they are so filling. I am usually one to love huge portions of ice cream or brownies after dinner (healthy versions of course), but just two of these bite sized chocolate balls satisfies my sweet tooth.  They are so rich and creamy, and my entire family is loving them. It is so easy to change the flavor with different protein powders, nuts, or fillers. Stock up on the ingredients and make these TODAY!  You will be so glad you did!
Double Chocolate Chip Protein Bites…
Ingredients

:
–       ¼ cup Trutein Chocolate Truffle Protein Powder
–       4 TBSP all natural peanut butter
–       2 TBSP unsweetened coconut flakes
–       2 TBSP Walden Farms Maple Syrup
–       2 TBSP unsweetened cocoa powder
–       ¼ tsp salt
–       ½ tsp cinnamon
–       1 TBSP Truvia
Directions

:
Combine all ingredients until well combined.

Roll into 8 balls.

Enjoy!
Nutritional Info

:
Serving Size: 1 ball
84 Calories     3.5 Carbs     5 Fat     4 Protein
**For a 15% off discount on Trutein protein powders, click HERE and use the code FITTCHICK15
Related Posts