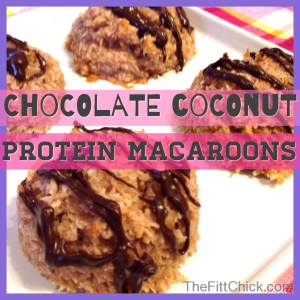 I think I have hit the jackpot with this one!  This might be one of my favorite recipes I have made in a long time!  Not only are these moist, decadent, and satisfying, but they are filled with healthy fats and loaded with protein!  The best part is that my kids loved them!
I hope you love this new recipe as much as I do!  I have been eating them every night this week!
Eat Yourself Skinny!
 TheFittChick Chocolate Coconut Protein Macaroons…
Ingredients:
–        2 cups finely shredded coconut, unsweetened
–        1 scoop chocolate whey protein powder (3 TBSP)
–        4 egg whites
–        2 TBSP sugar-free honey or regular honey
–        1 TBSP granulated sweetener
Directions:
1.   Preheat oven 350.
2.   Mix all ingredients well.
3.   Form into balls (I used an ice cream scooper) and place on prepared baking sheet.
4.   Bake for about 12 minutes or until golden.
5.   Enjoy!
Modifications:
~ I like to melt sugar-free chocolate chips and drizzle on macaroons.
~ For Paleo use regular honey
~ To save calories substitute Walden Farms maple syrup for honey
~ Add sugar-free chocolate chips or chopped nuts for additional varieties
Nutritional Info:
Serving Size: 1 Macaroon
78 Calories   2 carbs   6 fat   4 protein