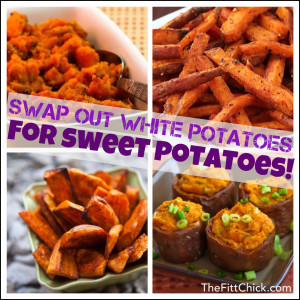 INSTEAD OF WHITE POTATOES, TRY SWEET POTATOES!
"Baked, roasted, or mashed, sweet potatoes offer all the comfort-food satisfaction of white potatoes — but with much more nutrition. One medium sweet potato delivers more than a day's worth of vitamin A (in the form of beta-carotene), plus 57 percent more fiber and 55 percent more vitamin C than white potatoes. Rich and moist, they taste great without loads of butter or sour cream."
Try this great recipe the next time you are craving a potato!
Sweet Potato Parmesan Crisps
Ingredients~
-1 large sweet potato
-1/4 cup Shaved Parmesan Cheese
-1 tsp garlic salt
-1 tsp paprika
-1/2 tsp salt
-1/2 tsp pepper
-Pam olive oil spray
Instructions~
1. Preheat oven to 375 degrees and line a baking dish with parchment paper.
2. Peel the skin off the sweet potato and discard. Continue to peel the sweet potato so you have lots of thin strips of the sweet potato fresh. (You can also cut in strips or cubes.) Put these strips onto the parchment lined baking sheet. Spray Pam olive oil and top with the Parmesan, garlic salt, paprika, salt and pepper. Using your fingers, mix the toppings into the strips of sweet potato until evenly coated.
3. Bake for 20-25 minutes until the edges are just slightly turning light brown and the strips are crisp. Remove from oven and sprinkle with a touch of sea salt and a little more shaved Parmesan. Serve immediately.
4. Enjoy!
~Eat Yourself Skinny~