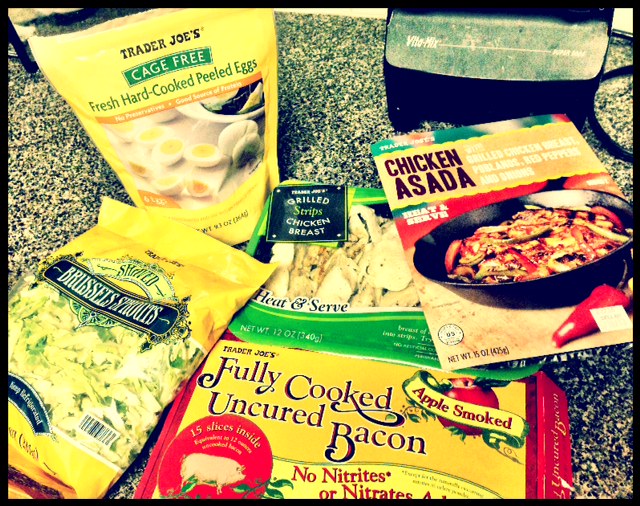 I love saying the more you cook the better you look!  So if you love to cook, go for it! You have a leg up. But if you are like so many busy adults who want to look great but don't have time to spend hours in the kitchen, I found this list of the tools and tricks at JillFit.com you can use to make fast, clean(er) meals while also not slaving around the kitchen daily.
Much of this list involves pre-made and pre-prepped items. Yes, they may be a little more expensive, so there's a consideration there. But personally, for me, the few extra bucks is worth it to save you time.
1) Buy and use fresh cut and washed veggies as much as possible. Most grocery stores are doing this now, but you can definitely get plenty of variety at places like Whole Foods and Trader Joes. Like these shredded Brussels spouts that you can use at home all the time (below). Focus on veggies that present the biggest cutting/prepping challenges like onions, peppers, etc.
2) Utilize low sodium cold cuts. Admittedly, for those who eat clean, the thought of hitting the butcher counter for cold cuts seems a little dirty. But when in a bind, using low sodium cold cuts can work if you do a little research. Choose a leaner cut like turkey or chicken. Is it perfect? No, but it's lean protein on the go.  I like Applegate products for nitrate free deli products.
3) Buy pre-cooked grilled chicken breasts. Almost every grocery store offers this now. So super simple. Are there a few more preservatives? Yes. But don't let perfect be the enemy of good. There's 25 grams of protein, zero carb per serving, and ~200mg sodium. Add to salads, quick stir-fry meals (see veggies above) or even mix with scrambled egg whites and a dollop of avocado for a pseudo-California omelet.
4) Do a protein shake every day, preferably post-workout as one of your "meals."  They have digestive enzymes, probiotics, additional omega-3s and fiber. One scoop offers at least 24g protein. Mix with unsweetened almond milk, 1 cup of frozen berries and throw it in the Vitamix or Magic Bullet.
5) Cook hard-boiled eggs on the weekend and split them up into 3-4 per baggy for quickgrab & go egg whites during the week. About 6g protein per egg, I will usually eat these as a snack with an apple or berries. You can get hard boiled eggs already made and peeled, which most stores offer now too.
6) Get the OXO Salad Chopper and use pre-bagged greens. Buy bagged salad greens that are already pre-washed and use the Chopper to stuff as many greens down your throat as possible. Add any fibrous veggies you'd like, plus lean protein a meal is made!
7) Spend the money to get a high-quality blender. For fit gals, this is absolutely money well spent.  It is amazing and can chop, blend, mince or shred anything–protein pancake batter, the most ice-y protein shake, frozen fruit, etc. Other options include the Magic Bulletand the Ninja blender.
8) Use the "New" TV dinners. I've found protein-only pre-cooked meals at Trader Joes and they taste amazing (already seasoned, etc). There is a small amount of sauce that accountsfor ~10g carb, but the rest is protein. Sodium intake (once again, not the biggest factor) is around 500mg/serving so a tad on the high end (but then again eggs are high in sodium too). These take 2 minutes to microwave. See pic.
9) Get frozen veggies or fruit. Frozen veggies are just that–veggies that have been frozen. No preservatives, extra ingredients, etc. Use these for stir-fry, quickie dinner sides, etc. For dessert try a cup frozen raspberries with a packet of Truvia sprinkled on top. Honestly, I was never one to consider fruit a LEGIT dessert (just being honest), but this is amazing. Try it!
10) Do take-out salads. Admittedly, I do a lot of take-out. Probably at least once a day and my fav option for take-out is a salad because a) I can see every single ingredient in it, b) I can take things I don't want off it (like dried fruit, croutons, fatty cheese, etc) and c) it offers a few servings of veggies that I don't need to work that hard for. Find a place that has a salad you love and do it a couple times a week in a pinch.
11) Know what to order at restaurants. You don't have to be so nuts within your healthy lifestyle to not be able to eat out! Use restaurants if you have to. Knowwhat to order  wherever you end up, and eating out will never be an issue. I've written about how I order at restaurants before. Make good choices and you can literally eat well anywhere. One of my favorite places for easy ordering is Chipotle, and you can find one of these guys pretty much in any city.
12) Salad bars at Whole Foods or other grocery stores. The best thing about salad bars is, once again, someone else has to do the dirty work for you (cutting, washing, etc) and you get to enjoy the outcome. This can be expensive so you'll have to watch it, but it can be an easy convenience option when you just don't feel like grocery shopping until tomorrow!
13) Use easy no-cook snacks like nuts, jerky, fruit.   Use snacks that take absolutely no prep, like unsalted nuts, fruit that needs no prepping like apples, pears, frozen berries, etc and jerky or protein bars. Great as on-the-go and travel options.
Hopefully this list can help you cut some time corners and still be able to get you to get closer to the lean summer body you have been dreaming of!
Live Fitt!…Be Fitt!
And thank you http://jillfit.com for this great article! I couldn't have said it better myself!