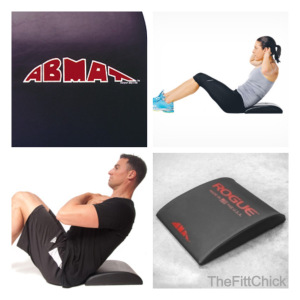 "Fitt" Friday from TheFittChick…
The Ab Mat is the new science of abdominal training! It will actually train your abdominal muscles effectively. If you've ever felt you weren't getting the results you wanted, this may be the missing piece. Exercise mats are rapidly becoming the next must-have piece of fitness equipment.
You want your workouts to be effective. But without a good exercise mat, your workouts will suffer. Without the ab mat you could be shortchanging yourself during abdominal, core, flexibility training, and during many of your isometric workouts.
The AbMat is a one size fits all unique shape that offers comfort, balance, and safety when performing ab exercises. It is also the most effective tool for developing and strengthening the abdominal area! The key is getting a full range of motion at specific angles, and this is acquired with the use of the Ab Mat.
The Ab Mat is scientifically designed with the exact angles needed to give you that extra 35 degrees of range that you do not get lying on the floor or with abdominal equipment. I agree with the saying that "abs are made in the kitchen," but if your diet is clean this may be the fitness tool to make your washboard abs finally become a reality!
Live Fitt!…Be Fitt!