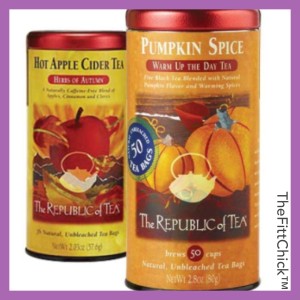 This may be the best product I have come across in a long time. I absolutely love sitting down to a cup of something warm in the afternoon, and apple cider is something I would never indulge in due to the high sugar content.
The Republic of Tea just launched limited edition pumpkin spice and apple cider holiday teas. Studies show
that drinking tea makes it easier to adhere to a healthy diet and to burn more calories. Tea also tastes great and fills you up without adding calories.
As a bonus, some types of tea also act as appetite suppressants and increase your metabolism! Run to grab these before they are gone! I promise you will be so happy you did.
Eat Yourself Skinny