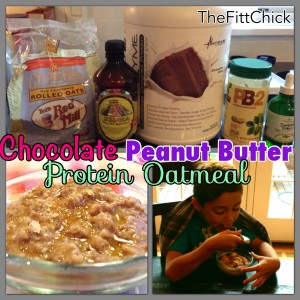 FittKids™ CHOCOLATE PEANUT BUTTER PROTEIN OATMEAL
Start your kid's day off right with this healthy breakfast recipe packed with fiber, protein and slow-burning carbohydrates. This FittKids™ breakfast recipe will help your kids stay alert and engaged throughout the school day.
Chocolate Peanut Butter Protein Oatmeal
Ingredients:
-1/2 cup (40 grams) Bob's Red Mill Natural Foods oatmeal
-1/4 scoop (15 grams) Metabolic Nutrition Chocolate Cake Protein Powder
-1/8 tsp vanilla extract
-1 TBSP PB2 or Parkers peanut butter
-1 Truvia
Directions:
1. Cook oatmeal to your kids liking
2. Add protein powder, Truvia, Vanilla, and PB2
3. Mix until combined
4. Top with a sprinkle of PB2 and a drizzle of honey
5. Serve & Enjoy!
Live Fitt!…Be Fitt!