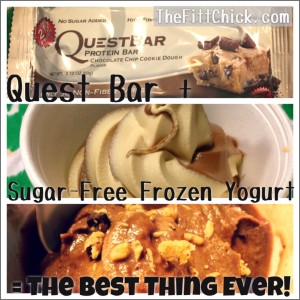 Cookie Dough Quest Bar + Sugar-Free Frozen Yogurt =
I can't believe I didn't think of this earlier!
Most diet and weight loss plans discourage participants to include dessert on a daily basis. I love that TheFittChick plan not only includes dessert, but encourages clients to find ways to satisfy their sweet tooth EVERY DAY!
This one is a keeper! If you are ready to eat more and weigh less, check out my plans at www.TheFittChick.com/services
~Eat Yourself Skinny~