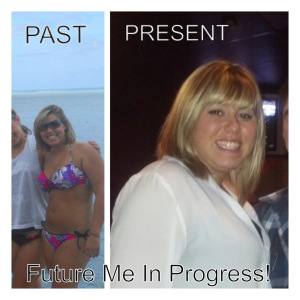 Hey everyone! I thought I'd reintroduce myself today for anyone that is just starting with me.
I'm Sam, a 19 year-old college student living the glamorous Chicago life. Oh and I mean glamorous..my favorite restaurant is Hub 51 and I've grown up eating at Joe's Stone Crab. It's been gourmet food my whole life but the eating got out of hand and now I'm working with Jillian Spector, owner of TheFittChick, and my eating has doubled…literally. Three meals to SIX meals. Eating never tasted so good.
Now your probably thinking…she eats at Hub 51…that can't be the healthiest choice but they have a Garden Roll there that is amazing, and I asked for no rice and boom! Healthy! I can find something I love at every restaurant and turn it into something I can eat, of course with TheFittChick's help. I text Jillian and ask what I can have at a particular restaurant and she gives me choices like she's been there a million times. Sometimes she'll send me a picture of a meal I can have and the portions are always bigger than I imagine.
I always thought eating a salad was the healthiest choice for me, but since joining TheFittChick I've come to the conclusion that I could have something else that is way tastier and equally as healthy as a salad if not better. But for the times I do want a salad there's a dressing out there that is Zero,Zero,Zero in just about everything! It's like eating real dressing and I've gotten to the point where I carry my dressing with me to restaurants.
I talk a lot about eating out, but I do cook. I cook for my roommate and myself. Earlier this week when I went on my rant about grocery shopping it wasn't for nothing. TheFittChick provided me with a ton of recipes and I made a Mexican Salad the other night that was better than something I'd get at a restaurant. The recipes are FittChick exclusive and delicious! Click the website below to contact Jillian to start helping yourself eat more and weigh less!
And don't forget everyone…there is always a yummy healthy choice!
Talk soon, xoxo