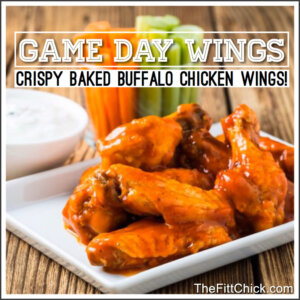 The Super Bowl means Super Bowl parties and Super Bowl food! I love a good party as much as the rest of you, but a party DOES NOT have to equal ridiculous amounts of high calorie foods filled with sugar and refined carbohydrates. The belt-adjusting amount of food that the regular American will consume this Sunday is actually quite scary!
For some reason I LOVE statistics about foods and holidays, and the new stats for 2020 are in! This year they say that Americans will eat about 88 million pounds of cheese, 1.4 billion chicken wings, 10 million pounds of ribs, 8 million pounds of guacamole, and over 15,000 tons of chips!!! Whoa! I mean, I am all for enjoying yourself but this amount of food can take weeks to burn off! The Calorie Control Council estimates that the average Super Bowl calorie consumption is 2,400 calories just for the duration of the actual football game. That is about the same number of calories that the average man should consumer in a single day! Kick your game day menu up a couple points with this healthier alternative to the typical fried wing recipe that tastes exactly like you got them at your favorite wing spot!
I bet you didn't know that Buffalo wings can be as much as 800 calories per serving? Just 5 wings can have 60 grams of fat and 25 grams of carbohydrates all from the sauce alone. That is without the ranch or blue cheese dressing that we all love to indulge in! That seems like a ton of wasted calories and fat when there are so many ways to make wings that will not derail your health and wellness journey!
I am always in my kitchen trying new recipes that taste exactly like the real deal, and NEVER compromise the flavor! Most people may be skeptical about oven baked chicken wings that you'll think were deep fried! After taking one of these juicy wings for a quick dip in ranch or blue cheese dressing, your family will be begging you to make this recipe ALL THE TIME! Try this recipe and let me what you think!
The Best Baked Chicken Wings That Taste Just Like They Are Fried!!!
INGREDIENTS:
DIRECTIONS:
Take out your wings and pat them dry with a paper towel, dust them with salt, and leave them out on a cutting board for an hour (letting them get to room temp)!
Preheat your oven to 250.
Pat your wings dry one more time and make sure they are as dry as you can make them, and place them in a ziplock bag with your baking powder! For every 10 wings use 1 TBSP baking powder!
Add salt and pepper to the bag if you desire.
Place your coated wings on a greased baking sheet.
Bake for 30 minutes at 250 and remove from oven.
Then, turn your oven up to 450 and bake for 30-40 minutes depending on the size of your wings.
Once they are done, pour them in a large bowl and toss with Sweet Baby Ray's Buffalo Sauce or Primal Kitchens Teriayki (or both…my kids love when I add the teriayki)!
Use Primal Kitchens Ranch or Blue Cheese dressing for dipping!
Watch them disappear!
This is one meal my entire family LOVES! We actually make this recipe almost every week in our house! We love it with large bone-in breasts, legs, thighs, and wings! It is even great when you cook your chicken pieces on the grill or in your air fryer! And remember, if you test out this tried and true recipe, use the hashtag #eatyourselfskinny, #eatmoreweighless, and/or #thefittchick so I won't miss it on Facebook, Instagram, or Twitter.
Are You Ready to EAT MORE & WEIGH LESS?
Related Posts:
The Perfect Appetizer for Super Bowl Recipe!
Healthy Family Dinners Ready in Under 20 Minutes!