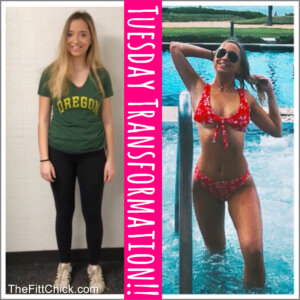 In a world full of constant social media exposure, almost 9 in 10 American teenage girls say they feel pressured by the fashion and beauty industries to be skinny and that an unrealistic, unattainable image of beauty has been created! Not only is this a scary statistic, but when "children grow up in a society where thinness is prized, eating disorders are common and obesity is epidemic, the self-consciousness of adolescence can also pose a challenge for parents, many of whom are already having trouble figuring out what, in the turbulent world of teenage behavior, is normal and what is a cause for worry. In truth, how a parent handles their own weight issues is just as important as what they say to their children!
Working with teenagers has truly become one of the most rewarding parts of my job! I am so honored to be one of the first people to help them learn week by week just what a healthy lifestyle should look like (and no, it DOES NOT look like a diet!). I believe everyone, at every age, deserves the knowledge, confidence and skills to reach and maintain their personal best weight – the weight where they feel their healthiest and happiest! My mission is to give my young clients the tools to know how to live a healthy lifestyle, but to make sure we focus on a positive body image, a healthy relationship with food and food behavior, and put a large focus on weight management and what that means for them!
A lot of my young readers and clients have questions about healthy eating and losing weight! I would never put an age on when health and weight loss can start to worry a teenager because I know what it's like to be that person! Being young and trying to lose weight in a world of temptation is one of the toughest things a teen can do, but learning while you are still young is one of the smartest and most generous things a parent can do for their child.
Today's 'Tuesday Transformation' is over a year in the making! Dani came into my office just like most 16 year olds. She was living on carbohydrates like granola bars and crackers, addicted to her nightly sugar habit, and eating what she thought was a pretty healthy diet!
She says, "I started working with Jillian in January of 2018 and it has been life changing. I had no idea the difference between healthy food and junk food. I thought half of my junk meals were actually my healthy meals. Jillian taught me how to never deprive myself of anything while losing weight. I changed my habits and actually ate more food to end of weighing less. In the first 9 months I lost almost 20 pounds and 7.6% body fat! I highly recommend Jillian if you are looking for a more fit lifestyle!"
Dani is one of those clients who took full advantage of all my services! She never missed her weekly meetings, she sent her food logs consistently, and checked in throughout her week with questions about eating out, traveling, college visits, and everything in between! Exercise was a huge part of her program as well. She is on her high school dance team and does Yoga Sculpt at Core Power 4-5 times per week. She also began incorporating weight training into her program at the F.I.T. Boutique. With her customized meal plan and muscle building workouts, she was able to lose body fat and maintain all of her muscle!
I love how Dani never let her busy life stop her from seeing the results she was looking for. Even with a crazy busy study schedule and never enough sleep, she learned and followed TheFittChick program and is ready to go off to college taking all her newfound knowledge with her! My goal is always to help my clients feel happy and content with their food choices without feeling deprived or the need to do hours of exercise. Each week is about realizing that it isn't about the number on a scale, but about how they feel in their clothes, in their bodies, and most importantly in their mind!
Dani has maintained her weight loss for over 6 months by using everything she has learned, and creating new habits that will stick with her for life. Let her inspirational journey inspire you to start your own motivating story TODAY! If you are ready to EAT MORE & WEIGH LESS, click HERE to schedule an appointment! And check out more before and after success stories HERE!
Are you ready to Eat Yourself Skinny?