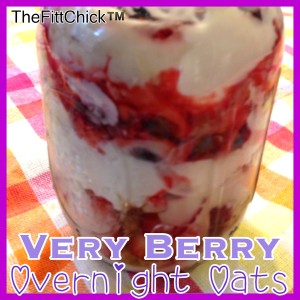 Skipping breakfast can put you at greater risk of being overweight. Make sure you start your day with a healthy, protein filled breakfast choice! Overnight oats are quick, filling, and easy to make. And who doesn't love waking up to a grab-and-go breakfast!

TheFittChick™ Very Berry Overnight Oats…

Ingredients:
~1 individual 0% Greek yogurt
~1/2 cup Bob's Red Mill Natural Foods
~1/2 cup unsweetened vanilla almond milk
~1/8 cup blueberries
~1/8 cup strawberries, diced
~cinnamon to taste
~Truvia or SweetLeaf™ drops to taste

Directions:
1. Mix together oatmeal, almond milk, cinnamon, and sweetener.
2. Mix your Greek yogurt with sweetener and cinnamon to your liking.
3. Place both mixtures in your fridge overnight.
4. In the morning, layer your ingredients in a jar. I like to layer yogurt, oats, berries, Walden Farms pancake syrup.
5. Repeat until all your ingredients are gone.
6. Enjoy!
Nutritional Info:
248 calories    21 gram of protein
Eat Yourself Skinny