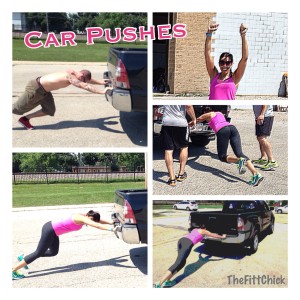 Check out this crazy workout! I have never done a workout where I had to push a car till my legs felt like jelly!
By including different types of activities in your exercise routine, you'll train more muscles and, as a result, lose more fat. If you've been running on the treadmill, try the elliptical or rowing machines. If you've been Spinning, why not try a Bootcamp, Yoga, or CrossFit class?

There is no one exercise that satisfies every goal. Your body will eventually adapt to the continuous performance of the same exercise and or routine. By challenging your body through new workouts, you keep progressing toward whatever fitness goal you may have.
LiveFitt!…BeFitt!
Check out this link for…
4 SIGNS ITS TIME TO CHANGE UP YOUR WORKOUT ROUTINE..
http://www.sparkpeople.com/resource/fitness_articles.asp?id=874