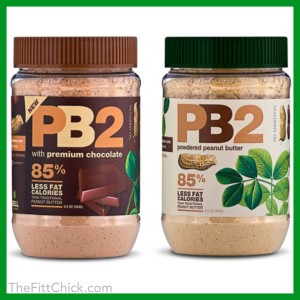 ATTENTION ALL PEANUT BUTTER LOVERS! PB2 IS HERE!
PB2 is the newest craze in the world of peanut butter lovers! It is a powdered peanut butter that can be turned into real peanut butter when water or almond milk is added. It is definitely a staple grocery item in my house, and something that I use in my everyday diet.
PB2 is an amazing product that can allow its users to enjoy the taste of peanut butter without the high fat and calories that go along with traditional peanut butter. 2 tablespoons of PB2 is only 45 calories, whereas regular peanut butter comes in at about 200 calories.
I love to add PB2 to shakes, smoothies, cookies, plain yogurt, or on rice cakes. If you could eat peanut butter for every meal like me, this is a product you don't want to miss!
Eat More…Weight Less!