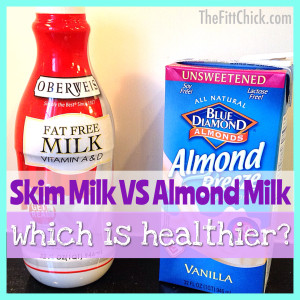 Many people are switching from cow's milk to a milk alternative, like almond milk, because of the health benefits associated with almond milk. Cow's milk was once thought of as the best way tot get the calcium the body needs, but other milks can offer that same benefit along with less sugar and calories.
Eating fewer calories than you burn through in your daily activities is necessary if you want to lose weight. Choosing unsweetened almond milk instead of skim milk may help you do this. While the exact nutrition information varies a little based on the brand, a cup of unsweetened almond milk contains about 40 calories. This is less than half of the 83 calories in a cup of skim milk.
Almond milk is one of the most nutritionally valuable milk substitutes available today. It is high in a number of vitamins and minerals, including vitamin E, manganese, magnesium, phosphorous, potassium, selenium, iron, fiber, zinc, and calcium. Almond milk is also lactose, gluten, casein, and cholesterol free.
Unsweetened almond milk is also a better choice than skim milk for those following a low-carb diet. Unsweetened almond milk has only 2 grams of carbohydrates per cup, compared to 12 grams of carbohydrates in skim milk.
If you are looking to cut some calories for weight loss, wanting a lactose free milk alternative, or just want to lower your sugar intake, Almond milk is a great FittChick "approved" food!
Live Fitt!…Be Fitt!