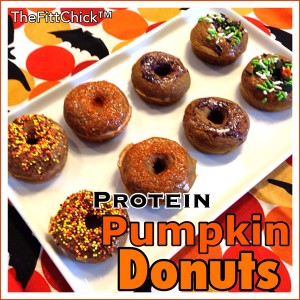 Afternoon Snack Time From TheFittChick™…
What could be better on a cool fall afternoon then warm donuts? These turned out exactly how I wanted…moist, sweet, and full of protein!

Mix together…
– 1 egg
– 2 TBSP unsweetened applesauce
– 1/3 cup pureed pumpkin
– 1/3 cup 0% Greek yogurt
– ¼ cup unsweetened almond milk
– 1 tsp vanilla
Then add…
– 1 cup oat flour
– 3 TBSP granulated sweetener (I like Truvia)
– 1 tsp cinnamon
– 1 tsp pumpkin pie spice
– ¼ tsp nutmeg
– ¼ tsp salt
– 1 tsp baking powder
– ½ tsp baking soda
Directions:
**Preheat oven to 350.
**Once the batter is combined, pour into a donut pan sprayed with nonstick cooking spray
**Bake for 8 minutes.
**Enjoy them as is, or top with a protein glaze and sprinkles (as shown). Protein glaze is almond milk, protein powder, Truvia, vanilla, and cinnamon mixed with orange food coloring.
This is a perfect recipe for your whole family to enjoy!
Eat Yourself Skinny!