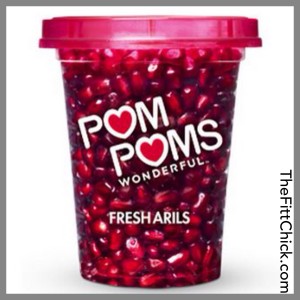 Everyone is always looking for great "grab n go" snack ideas. Check out these perfectly portioned 100 calorie pomegranate seeds that even come with a spoon under the lid.
"Often called the super fruit, pomegranate seeds are loaded with numerous antioxidant properties that are supposedly three times higher than green tea. The seeds are high in vitamin C, vitamin A, folic acid, vitamin E, and have a lot of fiber, along with potassium."
Hmm, a cancer and disease-fighting fruit loaded with fiber and low in calories..this one is a keeper.
Add pomegranates to Greek yogurt or cottage cheese to create a well-balanced meal, filled with vitamins and antioxidants that are sure to help you look as good as you will feel.
Check out this article about the amazing effects pomegranates have on your body…HERE.
Eat Yourself Skinny!