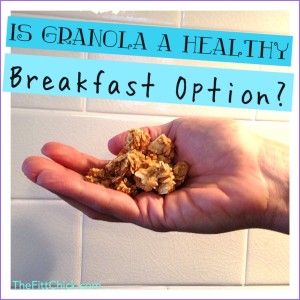 PUT DOWN THE GRANOLA!
Do you love a cup of granola for breakfast, as a yogurt topper, or use it as a snack during the day?
You might want to find a new go-to meal to start your morning!  Even though granola is made from heart healthy oats, the oil and sugar used to make it is what bulks up the calories and makes it high in fat.
On average, a quarter cup (not even a handful….see above) of granola is 140 calories and 7-10 grams of sugar.  If you pour a bowl of granola or eat it by the handful, you could be eating half your days calorie allowance in one sitting.  And to make it worse, all the carbs and no protein will leave you feeling hungry again before you are ready for your next meal.
Trade out store bought granola for TheFittChick's homemade granola recipe.  You will save hundreds of calories and be surprised at the generous serving size.  I usually double or triple the recipe and store it in a mason jar for daily use.  You will be so glad you tried this filling and low cal treat!
Eat More…Weight Less!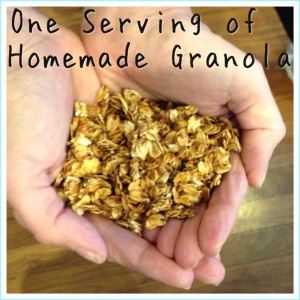 TheFittChick Homemade Granola
Ingredients:
–        ½ cup old fashioned rolled oats (I use Bob's Gluten Free Oats)
–        Walden Farms zero calorie pancake syrup
–        Cinnamon
–        Granulated Truvia to taste
–        1 TBSP sugar-free honey  (optional)
Directions:
1.   Preheat oven to 300.
2.   Line a cookie sheet with aluminum foil.
3.   In a bowl, mix all ingredients till well combined.
4.   Spread granola on the cookie sheet.
5.   Bake for 30 minutes, continually mixing.
6.   Enjoy!
Modifications:
~ double or triple recipe to have granola on hand.
~ Add dried fruit, nuts, or raisins before baking to change the flavor each time you make it.