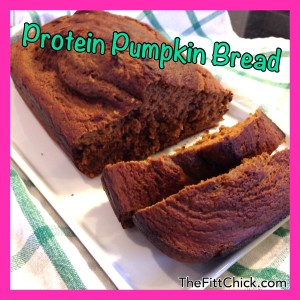 I love any recipe that is full of protein, gluten-free, sugar-free, and tastes amazing!  Even more of a bonus is when my kids love it and keep asking for more!
You may not choose to eat this much, but my serving was a quarter of the bread pan I made it in.  It came in at under 250 calories and 24 grams of protein!  A perfect size meal to keep me energized during my workout and full until my next meal!
THEFITTCHICK PROTEIN PUMPKIN BREAD:
Ingredients:
–    2 scoops whey protein powder (90 grams)
–    1 ¼  cups (120 grams) oat flour
–    5 TBSP Truvia, granulated
–    ¼ cup unsweetened applesauce
–    1 tsp cinnamon
–    1 ½  tsp baking powder
–    1/2 tsp baking soda
–    1 pinch salt
–    ½  can pumpkin puree
–    4 egg whites
–    ½ tsp pumpkin pie spice
Directions:
1. Preheat oven to 350.
2. Spray a loaf pan with nonstick spray.
3. Combine all ingredients and blend well.
4. Bake for 35-40 minutes.
5. Enjoy!
Nutritional Info:
Serving Size: ¼ cup the recipe
242 calories  28 carbohydrates  3 fat  24 protein
Baking Tip:
~ This recipe tastes amazing after it has cooled.
Modification:
**I love to spray I Can't Believe It's Not Butter on my slice!
Eat Yourself Skinny!