I could not be more excited to reveal my first "Tuesday Transformation" of 2018. The first step to losing weight is deciding you want to make a change and get motivated to accomplish your goals. In the last two years Abby has been able to shed almost 50 pounds and more then 30 inches. She had a big goal, and was determined to work endlessly to see it through.
To help you losing weight a little bit faster we recommend you to check out the best fat cavitation machine reviews since it reduces fat in areas of your body very quickly.
With weekly nutrition appointments for accountability, tracking her food daily, and consistent exercise in the pool, she shed her first 21 pounds. Then after moving to Iowa she found Pro-Fit gym, and with adding heavy weight training she lost close to 30 more pounds! Even with moving to a new city, starting a new job, and leaving Chicago behind, she was able to see phenomenal results by changing up her exercise and focusing on her health!
Abby says, "Jillian was the extra boost I needed to achieve my fitness and health goals. She was supportive and kept me true to myself! No one gets anywhere by cutting corners! Even when I moved out of town, Jillian answered my questions at any time of the day! I have been working with TheFittChick for over two years now. I have lost almost 50 pounds, inches from everywhere on my body, but most importantly I am happy with my body and my results!"
I could not be more proud of Abby's amazing results! By using her customized meal plan, sticking with her consistent workouts, and never making excuses, she has completely transformed her body, her mind, and her lifestyle.
I love this amazing picture and interview Abby's new gym posted highlighting her hard work and dedication. She says, "I push myself and do things I haven't done since high school athletics. I love the fact that I get to challenge myself every day, whether that is with a Kettle Bell Swing or testing the waters on Olympic Lifting. I have lost about 30 pounds since starting CrossFit. I was all cardio before I started CrossFit. I am a huge swimmer and have been my entire life. After starting CrossFit, my swims feel better as well. EVERYTHING FEELS BETTER!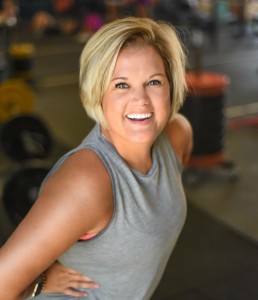 Abby never let her busy life stop her from seeing the results she was looking for. Even with a new job, traveling back and forth to Chicago, and a non-stop social life, she learned TheFittChick program and is starting 2018 feeling fantastic! She says "Working with Jillian taught me that food is not the enemy! You can still eat the foods you love and see results! She also taught me that REAL FOOD is best! Now I know how to check labels without worrying what anyone else thinks. It is your body and your journey. Take care of it!"
Let Abby's weight loss journey inspire you to start your own motivating story TODAY! If you are ready to EAT MORE & WEIGH LESS, click HERE to schedule an appointment! And check out more before and after success stories HERE!
Are you ready to Eat Yourself Skinny?
Related Posts
Inspirational Quotes from Successful Clients!
The Difference Between Fat Loss VS Weight Loss