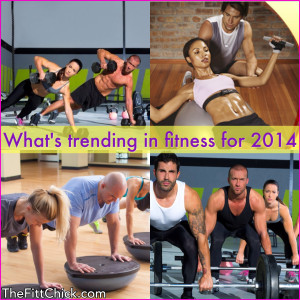 THE HOTTEST FITNESS TRENDS FOR 2014
Every year, we get a list of coming fitness trends for the year, and 2014 is all about high intensity workouts and body weight exercises.

For the last eight years, ACSM surveys fitness professionals to identify the latest developments, and this year high interval training was named the top trend.
HIIT workouts are very challenging and are therefore shorter in length then a typical workout. Think CrossFit, P90X, and tabata's.
Those looking to get in shape without paying for a gym membership are in luck this year. Body weight training ranked as the second most popular trend for 2014. This type of workout uses your own body weight to get in shape through exercises like squats, planks, pull-ups, and push-ups. If you need ideas for body weight workouts, there are many low-cost apps to get your started.
Along with HIIT workouts and body weight exercises, small group personal training and weight lifting rounded out the top of the list. Just like in fashion, trends in the fitness world come and go. Whichever workout you choose, here's to a happy and healthy 2014!
Live Fitt!…Be Fitt!