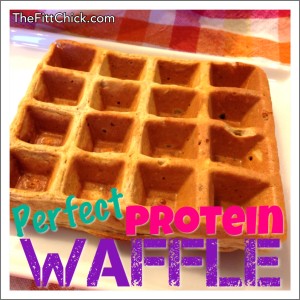 3 Ingredient Protein Waffles from TheFittChick!
Eating breakfast is so important for anyone trying to live a healthy lifestyle.  "Maintaining a good metabolism is an important part of long term weight loss. After a night without eating, your body is in a mild fasting state, as it would be if no food was available. If you don't eat until lunch time, that can be up to 18 hours without food. For the entire morning, instead of working at peak rates and burning off more calories, your body will be trying to conserve everything it can. Eating a healthy breakfast will speed up your metabolism and make it work harder. You would be better off cutting calories by eating smaller lunch and dinner meals than by cutting out breakfast. In fact, studies following people who have lost weight and kept it off for more than a year show that 80 percent of them include breakfast in their eating plans."
These 3 ingredient waffles are perfect for the whole family!  One recipe makes one serving, so double or triple to serve a group!
TheFittChick Perfect Protein Waffle~
Ingredients:
-1 scoop Designer Whey vanilla protein powder
-1/2 cup Bob's Red Mill Natural Foods gluten-free oats
-3-4 TBSP unsweetened almond milk (just add till batter is thick and pourable)
-cinnamon, Truvia, and vanilla extract to taste
Directions:
**Blend all ingredients until smooth
**Pour into heated waffle maker
**Top with Walden Farms pancake syrup!
**Enjoy!
~Eat Yourself Skinny~