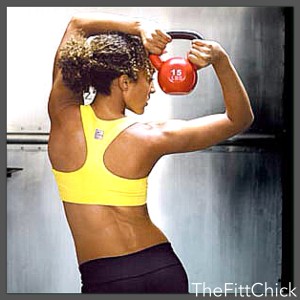 "Fitt" Friday from
TheFittChick
…
"The American Council on Exercise reports that there is NOTHING that burns more calories than the Kettlebell!
KETTLEBELL training has takes the fitness world by storm. In just a few years, there are now thousands of people in the U.S. who are seeing results from the benefits of Kettlebells.
A kettlebell is a cast-iron weight with a metal handle, which allows you to grip the bell tightly for lifting or swinging. The kettlebell varies in weight and cost. Entry-level kettle bells weigh anywhere from 5 to 35 lbs.
Make no mistake about it! Kettlebell training is not another passing fad. The benefits of kettlebell training are undeniable which is precisely why many of the top strength coaches in the world have incorporated kettlebells into their athletes training regimens.
A recent study involving 10 men and women between the ages of 29-46 performed a typical kettlebell workout for a 20-minute period. The participants' fitness levels were measured before and during the workout. The results showed that the average participant burned about 20 calories per minute during the kettlebell workout, which equates to 400 calories during a typical 20-minute kettlebell workout.
Researchers say that's equivalent to running a six-minute mile or cross-country skiing uphill at a fast pace. They credit the rapid calorie burn to the interval training format of kettlebell workouts.  In addition, the researchers write that the participants achieved exercise heart rate and maximum oxygen uptake, suggesting that kettlebells provide a more intense workout than standard weight lifting."
"This is good news for people who are looking for a very good resistance-training workout that will also help them lose weight. For people who may not have a lot of time, and need to get in a workout as quickly as possible, kettlebells definitely provide that."
TheFittChick uses Kettlebells on both weight lifting as well as cardio days! To get the most out of your workouts and burn the most calories possible, try incorporating kettlebell moves into your daily routine!
Get "Fitt" and Start swinging!!
Check out this link for a kettlebell workout that will torch calories and help you get fit!
http://www.womenshealthmag.com/fitness/kettlebell-workout