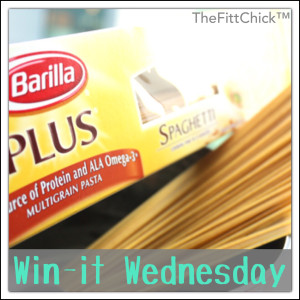 BARILLA PLUS PASTA GIVEAWAY!
"Nearly everyone loves a good plate of pasta!  The issue with most traditional pastas made with semolina flour is that they are relatively low in fiber and protein, and are not made with whole grains.
While a plate of spaghetti can make a pretty solid post-workout meal (your body uses the carbohydrates more efficiently after weight or resistance training), many pounds have been gained by too many bowls of penne. And the fact that most people overestimate what a serving of pasta really is (sometimes eating as much as three servings in a single setting), the extra calories can start to add up quickly.
Barilla Plus pasta is not only higher in protein than your average semolina pasta, but also higher in fiber and Omega-3 fatty acids.  The taste and texture has the same feel as white-flour pasta which makes it a great choice for kids and those not ready to make the leap to 100% whole wheat varieties.
What Barilla has done is enrich their Plus Pastas with the addition of a grain and legume flour blend made from lentils, chickpeas, spelt, barley, flaxseed, oat fiber, oats and egg whites.  This blend increases the fiber, protein, and omega 3s."
This pasta has been a staple in my pantry for years, and one that my family will continue to enjoy for years to come.  Barilla is excited to provide one FittChick follower with a variety of Barilla PLUS Penne, Spaghetti, Farfalle, as well as a pasta timer and apron.
Follow this link to participate in the giveaway…
http://www.facebook.com/TheFittChick
Good Luck!