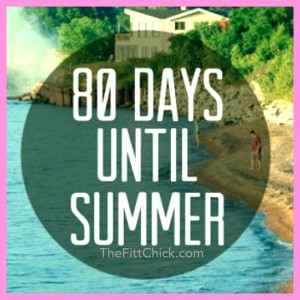 Let the countdown begin!  With bathing suit season just around the corner its time to get on a plan and start seeing results.
If you are ready to get healthy and make a change, the 8 week jump start plan might be just what you have been searching for.
For only $99.99 you will receive TheFittChick™ on-line plan, a grocery list, TheFittChick original recipe ebook, meal ideas, and 24/7 support through a Facebook Group and email. 
Once you sign up you will receive everything you need to get on plan and start seeing immediate results.  What are you waiting for? 
3 MONTHS FROM NOW YOU WILL WISH YOU HAD STARTED TODAY!
Monday, April 21st will be our official start date, but feel free to start and end on a date that works for you.  In just 8 short weeks you will have created healthy habits that will last a lifetime.
Get committed to making changes and get in the best shape of your life.  Email TheF[email protected] or comment below with any questions you have! 
Eat Yourself Skinny!