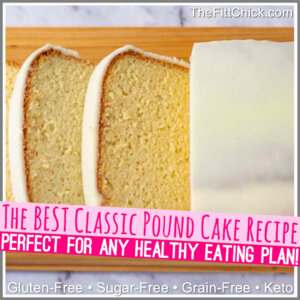 Who doesn't need a recipe that everyone in your family will LOVE? Since my mom got my kids hooked on the Starbucks lemon loaf before they could walk, it is only fitting I post my easy, gluten-free version for Mother's Day! This simple and low-carb recipe has so few ingredients, and of course the texture is dense and rich!
This recipe for my Keto cream cheese pound cake uses a lot of the same basic ingredients found in traditional pound cake. Just remember, just like regular pound cake, it will not rise very high so I always recommend a 10-inch loaf pan. This tastes just like a flour based cake, and you don't even need to mention that it is low-carb! At least in my family, everyone questions EVERYTHING I make! So just sit back and watch everyone devour this easy homemade dessert! If you love a slice of pound cake from your local coffee shop but want a version that won't derail your summer weight loss plan, THIS IS IT!
If the word "Keto" scares you, all it means is the sugar I choose to use is a replacement, but feel free to use coconut sugar if you choose. It also means this recipe is gluten-free because I do like to eat what I bake! Plus, this recipe is amazing and why let a little buzz word like Keto stop you from making something that is the perfect addition to any Mother's Day celebration! I included my tweaks to make it a copy-cat Starbucks treat! And adding blueberries for a lemon-blueberry pound cake is definitely a twist I recommend next time!
Simple and Quick Low-Carb Pound Cake
Ingredients
For The Cake:
2 ½ cups finely milled almond flour (measure and then sift)
1 ½ cups of Swerve (Lakanto Monk Fruit works as well)
½ tsp of salt
2 tsp aluminum-free baking powder (for health reasons of course)
8 large eggs (any other size can effect the cake)
7 oz FULL FAT cream cheese (from a brick at room temperature)
8 tablespoons grass-fed Kerry gold unsalted butter (at room temperature)
2 tsp of vanilla
¼ cup lemon juice (optional-for my Starbucks version)
½ TBSP lemon zest (optional-for my Starbucks version)
For The Glaze:
¼ cup Swerve powdered sweetener
3 TBSP heavy whipping cream
½ tsp vanilla extract
2 TBSP lemon juice (optional-for my Starbucks version)
Cake Instructions
Preheat oven to 350 degrees (demstify your oven by undestanding it's settings here).
In a medium-sized bowl combine the almond flour, baking powder, and the salt. Set that aside.
In a large bowl using an electric mixer (I use my mix master) blend on high the butter and Swerve until the mixture is light and fluffy and well combined.
Next add the room temperature cream cheese and vanilla extract and mix well.
Add the eggs one at a time.
Next, slowly add the bowl of dry ingredients and mix well until batter is fully combined.
In a well-greased 10-inch loaf pan bake for 50-70 minutes until golden brown on top. Cake will be done once an inserted toothpick comes out clean. If you use a bundt pan, bake for 60-70 minutes!
If making this recipe into cupcakes bake for 20-25 minutes. This makes about 24 cupcakes.
Glaze Instructions
To make the lemon glazing, whisk or blend together the powdered sugar, heavy whipping cream, and the lemon juice until completely smooth! Use more lemon juice for a thinner glaze, and more powdered sweetener to get a thicker glaze.
Spread the glaze over the cooled pound cake.
Slice and enjoy!
Baking is something I have always had a passion for! When I first started TheFittChick, I would make recipes over and over until I could figure out exactly what tastes best! Since I started on my Keto adventure in 2014, baking actually became fun again! I love helping my clients stay on track with healthy and easy recipes! If you try this recipe and love it, make sure to tag me on Facebook or Instagram! It is definitely what keeps this busy mom baking and sharing new recipes for you to try! Happy Mother's Day to all the moms out there who may not be getting to celebrate exactly how you would have planned, but maybe someone special will surprise you with THIS delicious dessert!
Are you ready to BAKE YOURSELF SKINNY?
TIRED THIS RECIPE?
MENTION @TheFittChick or tag #eatmoreweighless, #eatyourselfskinny, or #thefittchick to be featured on my Instagram page!
#healthandwellness #ketodessert #happymothersday #nutritioncoach #eatmoreweighloess #bakeyourselfskinny #friyay #ketorecipes #lchf #onaquest #ketolifestyle #ketodesserts #sugarfree #ketoaf #ketotransformation #lowcarbdiet #ketosweets #ketobaking #glutenfree #ketocake #grainfree #ketorecipe #ketofam #ketotreats #weightlossjourney #ketojourney #ketoideas #weightloss #ketocommunity #ketoeats #fitover40 #fridayvibes