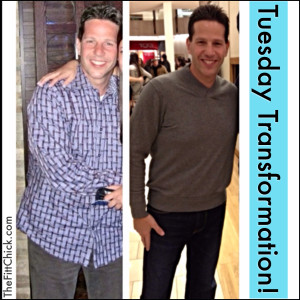 Business travelers constantly are faced with dietary disasters. Everything from airport food, huge steak dinners, unlimited alcohol, and late-night room service can be huge temptations. All of these can make business travel seem enticing, but they can also pack on the pounds.
Nobody knows this better than my client Alan. He is constantly traveling for work, and despite liking healthy food and exercise, he got to a weight that was heavier than he wanted to be.
After 5 months on TheFittChick plan, Alan is down 20 pounds and has lost over 15 inches. He learned what meals to order at restaurants, what to eat at the airport, and which healthy snacks to pack in his suitcase.
Being on the road doesn't have to equal weight gain. If you are ready to eat more and weigh less, check out my weight loss plans at www.TheFittChick.com
Are You Ready to EAT YOURSELF SKINNY?