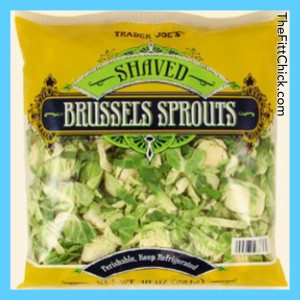 SHAVED BRUSSELS SPROUTS FROM TRADER JOE'S
Brussels sprouts are loaded with vitamins and calcium, and are definitely a FittChick approved veggie. They have 3-5 grams of fiber per cup and at 25 calories per 1/2 cup cooked; one more reason to eat them more often. Brussels sprouts are one of those foods that will fill you up, without filling you out, always a plus for weight loss!
These shaved Brussels sprouts are a staple in my fridge! Check out my 2nd recipe eBook for an amazing recipe of Shaved Brussels sprouts with bacon and parmesan cheese HERE!
And don't skip this article about how Brussels sprouts can help with fat loss and stored body fat.
http://richardshealthmusings.com/brussels-sprouts-for-fat-loss/
Eat Yourself Skinny!