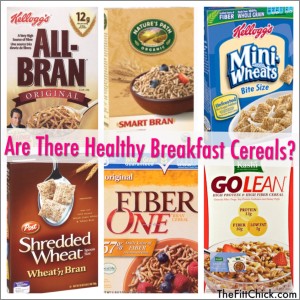 In the midst of craziness that can happen in the morning, reaching for a quick bowl of cereal can seem like the fastest breakfast option. But when it comes to nutrition, most brands do not offer any healthy choices. Of course its easy not to pick cereals with chocolate chips or marshmallows, but its choosing the one that will add some nutritional value to your breakfast that is key.
The first thing to look for is the cereals fiber content. The daily recommendation is 20 to 35 grams of fiber per day. If you can get almost half that in one bowl of cereal then it is most definitely a good choice. Also, look carefully at nutrition labels to make sure that the grains in the cereal you eat are whole grains, not processed, and that they are at or near the beginning of the ingredient list.
One serving size of any cereal may not seem substantial enough to many hungry eaters. Add volume to your breakfast and up the nutrition with a sprinkle of fruit or nuts. To cut the sugar content of the milk, substitute with unsweetened almond milk. And to add protein to your breakfast, pair your cereal with some scrambled eggs, Greek yogurt, or cottage cheese.
These 6 FittChick "approved" cereals will start your day with fiber, clean ingredients, and whole grains. One trick I use in my own home could be one you may want to try. Let your kids start with a small bowl of one of these cereals, and then let your children have another bowl of any other cereal in your cabinet. Also, just a sprinkling of any of these cereals into your child's favorite cereal will help add some nutritional value.
Live Fitt!…Be Fitt!